If you don't know who your customers are and what they are looking for, how can you expect your online store to thrive? This is based on fact. According to a survey, eCommerce sales are booming but consumers still head to local stores because they prefer the tactile and personalized experience they offer. That is traffic your website is losing to competitors even those that don't have an active online presence.
So what have they gotten right that you haven't? Unlike them, you don't have as much interaction with customers to increase conversion rates. However, you do have the crucial key to make them aware of your business – an active website. As long as it crops up on the first page when anyone types in search terms that are relevant to your business, your sales can and will improve.
How Google Adwords can Help
To stand out from the pack and emerge from their cocoon, small business owners are turning to Google Adwords. With the right keywords and budget, you can buy your way to the top. It is basically Google's advertising system that automates the creation and management of ads and keywords that are relevant for your business.
How it Works
Here is how it works. When you search for something on Google, the search engine references the Adwords advertisers pool to deter if an auction is feasible. If multiple advertisers are bidding on keywords that it thinks are relevant, the auction starts.
It is important to note here that 'keywords' are NOT search queries. Specific ones, such as 'baby food' are entered in the auctions for a range of search queries, such as 'best food for babies', 'baby supplies', etc.
Before that, advertisers have to determine their budget and the types of keywords they want to bid for and which will be paired with ads. Google takes those keywords from your Google Adwords account that seem relevant to it with the maximum bid you have specified.
Once you are part of the auction, Google references the max bid you have placed and your quality score to determine ad rank and position. This determines how relevant and useful your ad is to users, so the higher this score is, the better.
The formula is:
Ad Rank = CPC Bid x Quality Score.
So if you bid £3 and have a quality score of 10, your ad rank will be 30. So how much do you pay? Google determines the minimum amount you can pay for the position you win if your ad is clicked on using this formula:
The Ad Rank Of The Person Below You/Your Quality Score + £0.01= Your Price
So if the ad rank below you is 16, the amount you need to pay if someone clicks on your ad with the keyword is going to be 16/10 +£0.01 = £1.61.
In other words, you can pay less for a higher position if you have a good high quality score. The only exception to this rule is if you are the only bidder or have the lowest bid in the auction. In that case, you can pay the maximum bid per click.
Download here your FREE Paid Media Cheatsheet and start building your strategy to identify the steps you need to take before investing any money

Paid Media Cheatsheet
Top Benefits of Using Google AdWords for Small Businesses
It Levels the Playing Field
If your business does not have an online presence and doesn't appear on the first pages of Google results after a search, it might as well be invisible. Getting noticed by customers as and when they are searching for products and services you provide is a potential gold mine. However, larger companies bank on this and already have well-paid and dedicated SEO experts competing for those top spots as well as online marketers who are creating and uploading content regularly.
So how can a small, fledgling business with a limited budget compete? By using Google AdWords because it levels the playing field. Sure, you cannot afford an expensive TV spot or a complete ad in a newspaper, but with the ranking keywords in your online ads, you can make more money than you initially put into the campaign.
The cost will depend on the size of your business of course, but according to the CEO of the Marketing Zen Group, £2000 a month can go a long way. For that amount, you can make sure your Facebook followers can see and interact with your content as much as possible.
Provides Location Targeted Options
Say you work as a website designed in East London and want to attract customers who can reach your office there. A billboard will make your small business go in the red. For a small fee, you can use Google AdWords' location targeting to ensure your ads pop up in geographic locations of your choice. This can be anything such as:
Targeting countries – This strategy is perfect for local businesses that serve a country or an online retailer that ships products across the globe. It will give your ad more exposure rather than targeting just a few cities or localities.
Areas within specific countries – If your service serves a niche market, consider precise targeting by picking specific cities or postal codes. This strategy can work for businesses that serve local neighbourhoods, such as a family-run fish and chip shop.
The radius around a location – This is also known as proximity targeting and it allows you to show ads to specific customers who are within a specific distance from your business. It is ideal for services that deliver products within a certain area or a local business that has a customer base that lives in a radius around it.
In fact, you can also exclude locations and target according to geo-based demographics, such as income level. With time and by adjusting your campaign, you can increase your ROI and reduce costs at the same time.
Reach More Customers Through Gmail
Targeted email marketing is one of the best ways to attract a large number of customers to your business and increase awareness online. In 2015, Google integrated Gmail with AdWords for advertisers, thus allowing them to reach more prospects through its inbox.
These are interactive ads that appear in the Social and Promotion tabs of the Inbox. What you see is its collapsed form and when you click on it, it can either take you to a landing page or expand the email. This is what makes Gmail ads so useful in videos and in other embedded forms.
Due to its interactive nature, Gmail ads can engage in different ways, depending on its layout. It can play a video, go straight to a call or even to an app on the PlayStore. Those ads can also be saved and forwarded to others, which can increase your reach. Plus, since Google Ads optimises ads, these look great, irrespective of the medium they are shown in which includes mobile devices. With online shopping on the go on the rise, this strategy can increase awareness about your services and products in record time if done right.
Download here your FREE Paid Media Cheatsheet and start building your strategy to identify the steps you need to take before investing any money

Paid Media Cheatsheet
It's Faster Than SEO
Organic traffic may be free compared to AdWords, but the results it offers are way slower in comparison. You have to work much harder to rank well using SEO strategies because there are a lot of small businesses like yours that are trying to do the same and have limited budgets.
When you type in search terms such as 'restaurants near Leicester Square', Google gives you a list that is known as a map pack: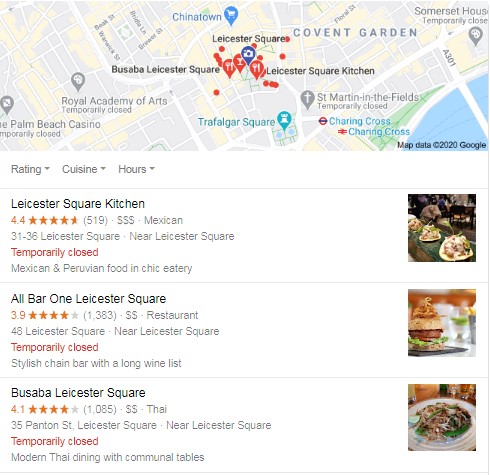 These are basically local restaurants in the local vicinity or the city that you have chosen. Most of the businesses on there have profiles on Google My Business for their specific locations so that the search engine can inform you where they are located, along with their contact information, website, hours of operation and more.
However, there is no guarantee that your restaurant or pub would appear on that list unless you have a thorough SEO strategy in place. With Google Adwords, you don't have to remain dependent on this. It is spread on a variety of networks and these are all on devices, not just desktops. So when you use Chrome or the PlayStore app, you are allowing the search engine to show you ads.
Since Google has allowed device bidding, you can create a set budget for each device your ads run on. The strategy allows advertisers to connect with target customers in a more meaningful and personal way i.e. through devices that they check every 12 minutes. 95% people who are between 16 to 24 years old have a smartphone, both Android and Apple devices. That is how many people will view your ads and the number of times they can do so if you use Google Ads for your primary ad campaign.
The bottom line is that search advertising bridges the gap between organic SEO and social media campaigns. This provides immediate relevant traffic, thus allowing advertisers to reach their audience as and when needed instead of waiting months or years for their keywords to rank in SERPs.
Provides Measurable Results
Unlike most aspects of digital marketing and traditional marketing channels, Google Adwords is fully measurable. This is difficult to do in SEO because you will not always be sure what increases or decreases your online ranking. In contrast, you can use several PPC metrics in Google Adwords to measure how successful an ad campaign is in numbers, such as:
Cost-per-lead – Cost-per-lead (CPL), allows users to ensure they are getting more out of their PPC than what they are putting in. If, for example, you have 100 conversions but they cost $50 each, giving you just $5 in revenue, it's not a profitable model in the long run. You can calculate CPL by dividing your marketing expenditures with the total number of leads you get. This will help you keep an eye on your marketing budget and make adjustments accordingly for instant results.
Click-through rate – Your click-through rate (CTR) can help you determine your quality score, which we discussed earlier. It measures the percentage of how often an ad is clicked after it is seen. If you have a high CTR (1% or higher), that means the ad is relevant and is connecting with people. If it has a low CTR (less than 1%), it means you have to revise the ad or replace it with a relevant one.
Overall ROI – This metric can give you a snapshot of the return you are getting for the money you are spending on your ad campaigns. To calculate it all you need to do is take the revenue that is generated by the ads, subtract overall costs and divide by your overall costs. The numbers you get can help you decide whether the budget allocated to the ad campaign is worth it or should it be redirected to a campaign that has more potential. That way, you can have a better grasp of the money you spend and can improve results at the same time.
Download here your FREE Paid Media Cheatsheet and start building your strategy to identify the steps you need to take before investing any money

Paid Media Cheatsheet
Conclusion
The bottom line is that if you want to ensure your small business can grow at a scale that competing businesses are thriving on, you need to spend a bit on Google Adwords for small or mid businesses. It may not be free, but it is more economical than SEO in the long run. Unlike the latter, you will know EXACTLY where and how well your online ads are performing and which customers you should target next. That is better than wasting money on TV spots and billboards that your target consumers may never see.