The terms 'dinner' and 'customer' have changed dramatically in the digital era. They aren't just faceless consumers anymore; they have names, likes and dislikes – all of which have an impact on not only what they buy, but how they choose brands and stores to buy from. Nowhere is this more apparent than in the food industry, a sector that is dependent on customer perceptions as much as it relies on taste.
Businesses that deal in food are responding to this demand by investing in food technology that can help them bridge the gap between those perceptions and their offerings. The technology that is being implemented and refined is designed primarily to improve the stages of food production, distribution and delivery, from the grassroots level right to the customer's plate.
One of the main aspects it touches upon is digital marketing in the food industry and particularly, how it can be used to promote offerings in a saturated market. In the wake of the Covid-19 and how it is forcing people to self-isolate for weeks, food-based businesses have a unique chance to keep their brands going in these uncertain times. Some of the elements that it relies on include the following: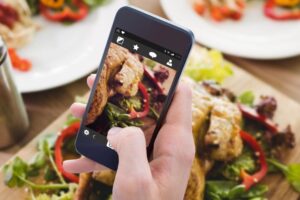 Connectivity Is the Name Of The Game
How a food-based business connects with consumers on a personal level determines their online success. In other words, how they market themselves online today will have a positive or negative impact on their bottom line in the future. Some of the ways they can do this include the following:
Using the Right Labels
According to a quantitative study by Barkley, products that claim they can be traced to their source and are sustainable and perform better than those that don't declare this claim. This claim stands head and shoulders above other labels that most grocery store products display, such as 'easy preparation' or 'portion control.'
Since public sentiment regarding food choice and consumption has shifted, as climate change becomes a very real threat, the keywords that are associated with it have changed accordingly. For example, there is an increased focus on the term 'environmentally-friendly' not only for food and beverages, but also their packaging. That is why more and more food manufacturers are making commitments to implement sustainable practices and policies that keep the health of the end user in mind.
This has had a marked effect on brand strategy for food production in marketing. Rather than just being a niche concept, environmentally-sustainable practices are becoming mainstream with millennials and generation Z being their biggest advocates. This kind of eco-attitude has a significant impact on their shopping expectations, dining preferences and habits.
So, how can food manufacturers, distributors and sellers profit from this online? Simple. Studies show that these generations are willing to pay more for products that have transparent labelling not only on the shelves, but also in their digital marketing efforts. This includes lists of ingredients, their calorie count and how they are processed.
It all comes down to the mindset of the modern consumer (their attitudes, decisions and behaviour) and how it drives the food movement. However, this does not mean that businesses are at the mercy of a consumer's whim. They can harness those trends and changing interests by using bespoke digital marketing strategies.
Using Social Media to Drive Online Perceptions and Conversations
Digital marketing for specific food products has become a challenge and for a simple reason.
In Great Britain the number of vegans quadrupled between 2014 and 2019. Naturally, there has been a surge in vegan-related search terms, such as 'gluten free', 'meat free', 'farm raise' and 'dairy free', to name a few. Besides these, diet restrictions have now turned into diet preferences with terms such as 'non GMO' and 'ethically sourced' reining supreme, particularly on social media.
By advertising food with these labels on social media platforms, such as Instagram and Twitter, food- based businesses can see a significant boost in sales and engagement. That, along with presentation and aesthetics, can do more to promote a company than a televised ad can.
This change in the food industry has not only had an impact on restaurants but also in factories where poor packaging is now being replaced with sustainable counterparts. By distributing images of their offerings from packaging to plate on social media, food-based enterprises can not only tap into unique and promotional markets, they can also make inroads into their own longevity as brands.
Since the whole point of social media is to engage with consumers on a personal level, managing it requires an equally personal touch. Consumer perceptions can change on a dime and a lack of response to even the simplest queries can ruin a company's reputation overnight. That's because those comments and answers are also read by other commenters and if one gets enough attention and goes viral, it can place the brand's credibility under scrutiny.
Today, this is seen as a marketing opportunity rather than a death knell for a brand. By responding to negative comments proactively, companies are not only delivering on their brand promise, but they are also attracting new markets. Similarly, companies that are leading the conversation on sustainable food manufacturing processes and packaging solutions are getting ahead of consumers rather than allowing them to get there first.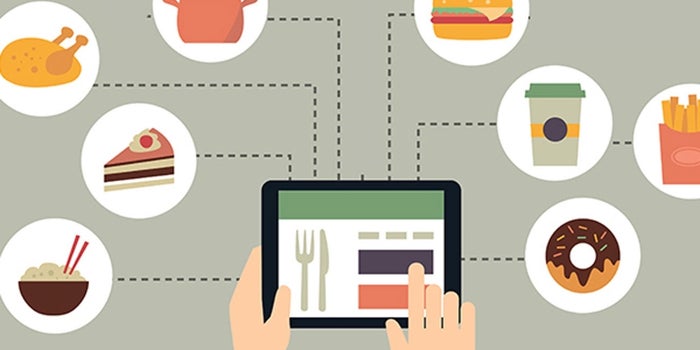 Optimizing Websites by Keeping Potential Consumers and Buyers in Mind
As consumers may change their preferences on the whims of influencers and trends, SEO techniques have to change accordingly. Solutions that could place a website on the first page of search results are not only obsolete today, they can even hurt its ranking permanently.
This holds true for the food industry, especially how a business presents itself online. To increase their organic rankings, websites have to be optimized not only to be more visually appealing, but also to ensure their content is readable and consumable.
The formula is simple. The more traffic a website gets, the lower its bounce rate, which results in a higher ranking. In the food business, perception is a reality for critics and customers alike. The best way to target both and keep them engaged is with content that informs and inspires at the same time. Some of the elements that go into creating impactful content for web include the following:
Scannable Content that Appeals to Your Target Audience
Large chunks of content do nothing but make readers phase out. While your website should have everything online users need to make a transaction, book a table or buy a certain product, less is more when it comes to engagement. Each paragraph should be limited to no more than 3 to 4 sentences and each should support the main idea.
Additionally, the sentences should not be long enough that they are difficult to read on a smaller screen, such as that of a smart device. While you can use longer sentences, do so sparingly and mix them with shorter ones to clarify the message. Varied readability can prevent your content from fragmenting and ensure your main idea delivers the desired impact on your target audience and make them return.
Besides being readable, the content should also be scannable. This is where bulleted lists make a difference. Bullet points are for SEO like ketchup is for French fries. They make people want more because those lists are:
Organized
Scannable
Concise
In other words, they are easy on the eyes and don't require a lot of brainpower to process. This is important because people read differently on the web compared to physical mediums, such as newspapers. That's because unlike a paper, they know they won't have to go anywhere to see what another restaurant has to offer if they don't like the menu or product descriptions on the one they are on.
They aren't looking for an immersive reading experience. They are looking for content that can help them make split-second decisions. In fact, according to a study by the Nielsen Norman Group, only 16% of site visitors read content word by word and 79% only scan it. In fact, even if they stay long enough to scan the website, they don't stay for long.
Therefore, to ensure your target readers remain on the web page for long, make sure the content on your food blog, product page and landing page has at least one bulleted list. Besides being easy to read, the content also encourages site visitors to check out pages till the end. Plus, make sure there is enough white space between the content so it doesn't overwhelm readers. This can be anything from external links to supporting content to supporting media, such as images and graphs.
Personalized Consumer Experience via Videos
The food industry is based on the senses and while taste is important, how it looks on the plate or it is packed has a significant impact on consumers as well. No medium has tapped into this potential as successfully as video has and for good reason. As brands evolve, telling their story to the people is the best way to maintain credibility and relevancy in an ever changing market.
Sure high-res images can go viral as well, but they cannot do what video can – create a real and authentic connection with viewers and make them react and comment in real time. This is important today because the web is saturated with stagnant content from food brands, each of which thinks its products are the best ones since sliced bread.
The key to standing out is emotional engagement and trust that videos can provide and this is supported by facts. Whether they are looking for a recipe for banana bread, a roast turkey or a simple spaghetti dinner for the kids, they turn to YouTube for recipes and tips on cooking strategies.
That's because video tutorials and reviews have the potential to gain a viewer's trust faster and for longer than any other medium. Food-based businesses are jumping on that bandwagon by creating shareable video content. The longer a consumer spends time viewing that content, the longer they will remain on your website, which translates to a higher SERP ranking.
As the most versatile type of content, the sky is the limit to how video can be used to promote a business. Have a new item on the menu? Share a video of it on your restaurant's Facebook page and share the stills on Instagram. Is your business losing its credibility? Feature a customer's story on how your farm fresh produce helped them lose weight and feel better about themselves. Have new specialty drinks on the menu? Make a video of how they are prepared in-house and highlight the ingredients to make viewers salivate with anticipation.
The point is there is no bad situation for sharing video content. Plus, since your target market will share it with the assumption that it has already been shared, it has the potential to go viral, provided it is well made and resonates with consumers on a personal level. In other words, it has to make them literally hungry and thirsty for more to make a difference as part of an online marketing strategy.
Besides immortalizing their offerings in videos, the medium also allows food manufacturers, distributors and sellers to give viewers an inside look at their business. A documentary on how a certain product is produced in a factory, for instance, can make viewers more mindful of what they buy and eat and promote a business at the same time. Similarly, a video on how customers can use a food app to order food online can also increase traffic and thus conversion rates.
The bottom line is that food-based businesses that fail to take advantage of online tools, such as social media, SEO and video, have more to lose than just their customers. A lack of online presence is seen as a lack of credibility and brands that remain with their head in the dirt, so to speak, can smother any chance of success or leverage in an increasingly competitive industry. With food bloggers, critics and foodstagrammers driving tastes, adopting foodtech in marketing strategies for food products and promoting sustainable agritech solutions is the key to success in today's consumer environment.